Precisely because for us, in addition to safety, training, regulations and recognition of the figure of the rider in delivery are of high importance and priority, one of our pillars is training, we believe very much that this work can be carried out in the best possible way, if those who do it carries out, has acquired the essential knowledge of this sector, of work, of road regulations, of personal safety and behavioral culture, as well as awareness of the profession and contractual rights.
In this way we will be able to have a more guaranteed, more efficient and safe sector for all the stakeholders involved.
Women's Employment and Training Program
This program is aimed at women, with the aim of increasing female employment, seriously affected by the pandemic and with lower growth rates, and consequently reducing the gender gap in the delivery sector.
Creating a model that allows women to feel protected and serene, with flexibility and a respectful and safe working environment.
Takeve's new starting cities join this program, which is aimed at women victims of violence, women in extreme poverty, immigrant women and unemployed women.
The training is provided by the Plase Association – Platform for sustainability and equality in a completely cost-effective manner.
And it aims to make women become true professionals in the sector, allowing them to work with Takeve or privately.
What's special about a Takeve rider?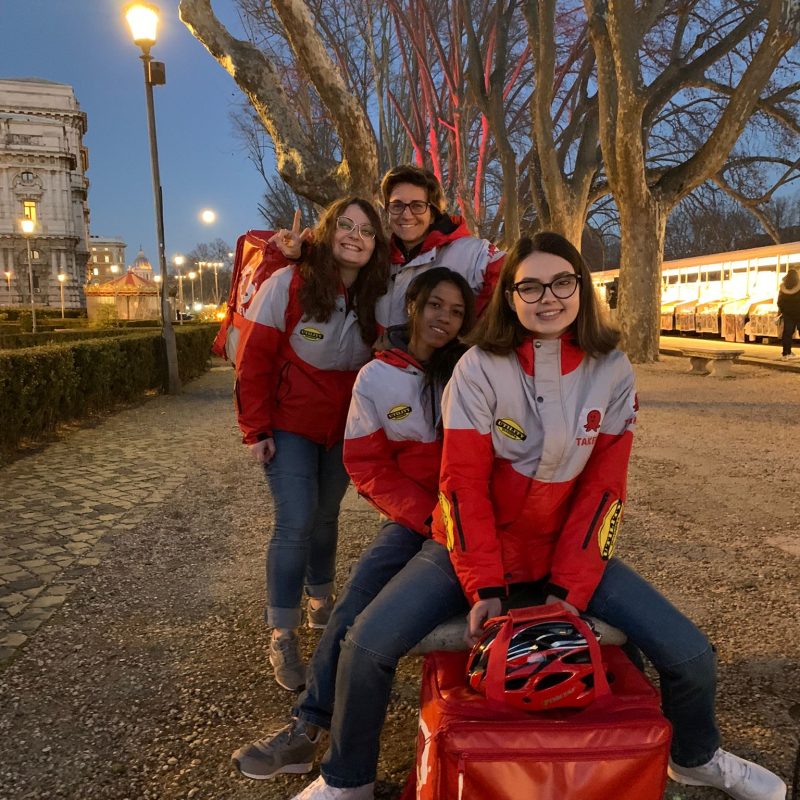 1. Regular employment contract based on the Logistics CCNL, with a guaranteed hourly salary plus for each delivery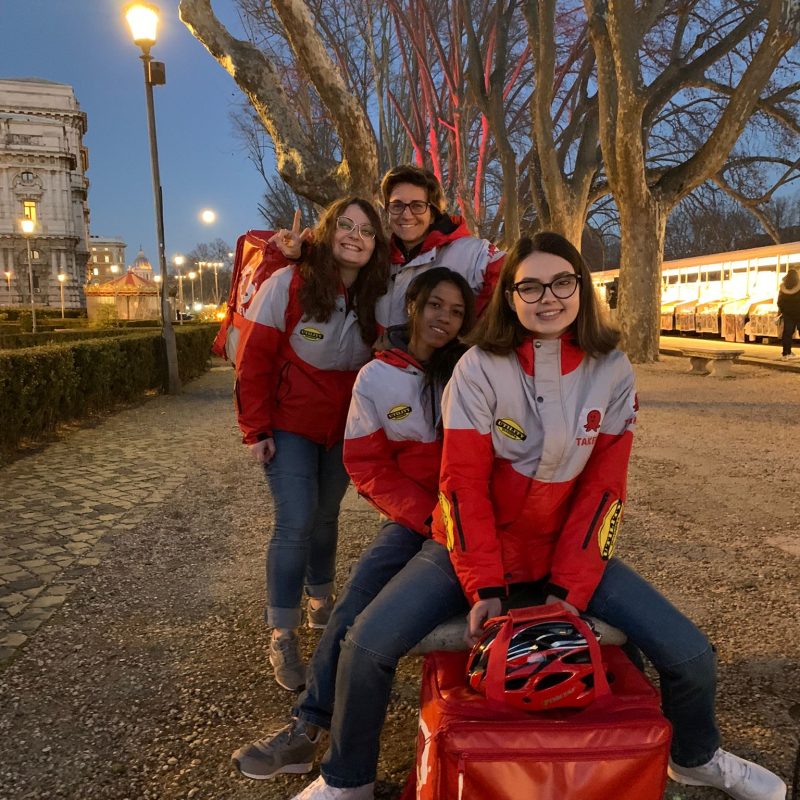 2. PPE, waterproof uniform, Diadora Utility non-slip shoes, Luxon reflective vest with NFC system of personal and primary data.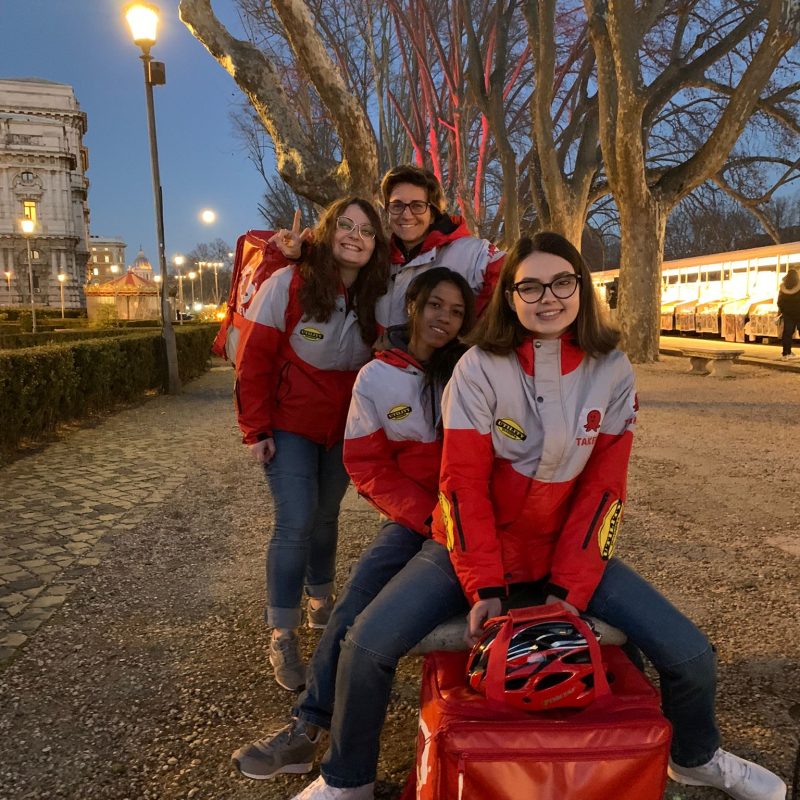 3. Specialized training, SOS rider app, GPS tracking and emergency sound device.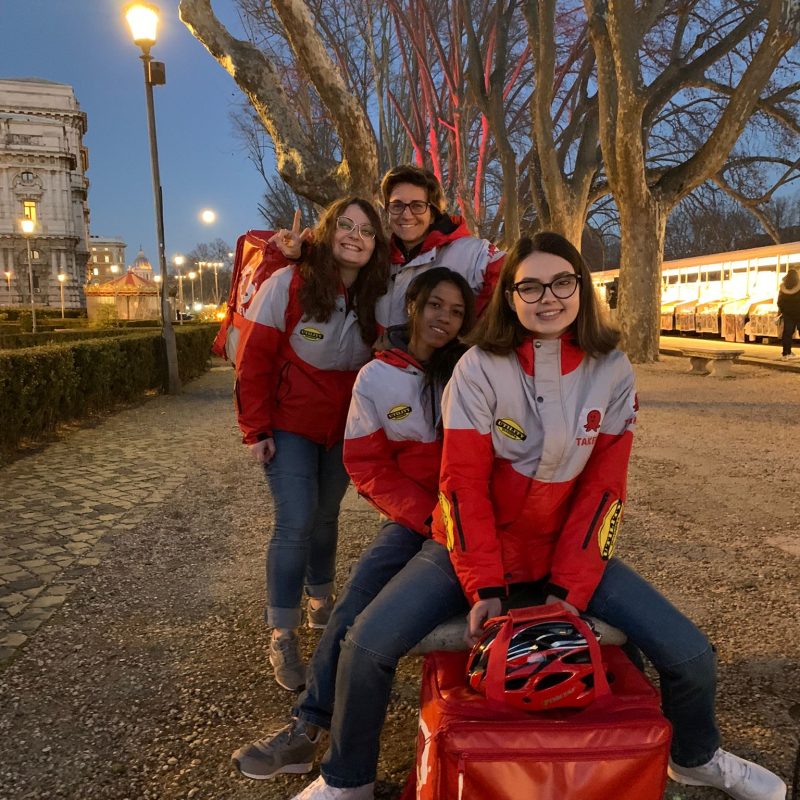 4. Private insurance inside and outside working hours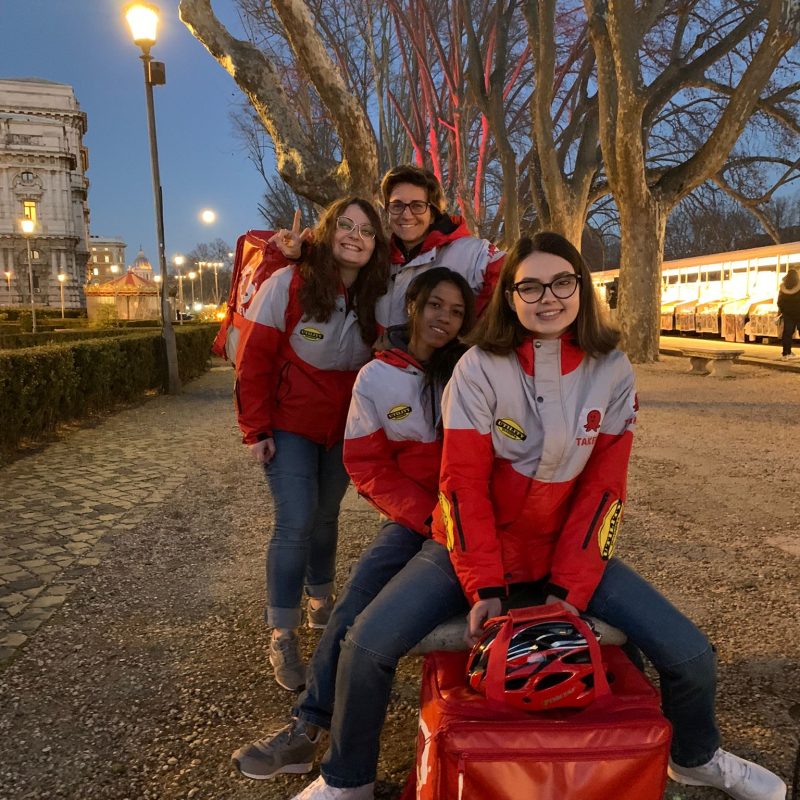 5. Sustainable means provided by the company, effective and safe for last mile deliveries.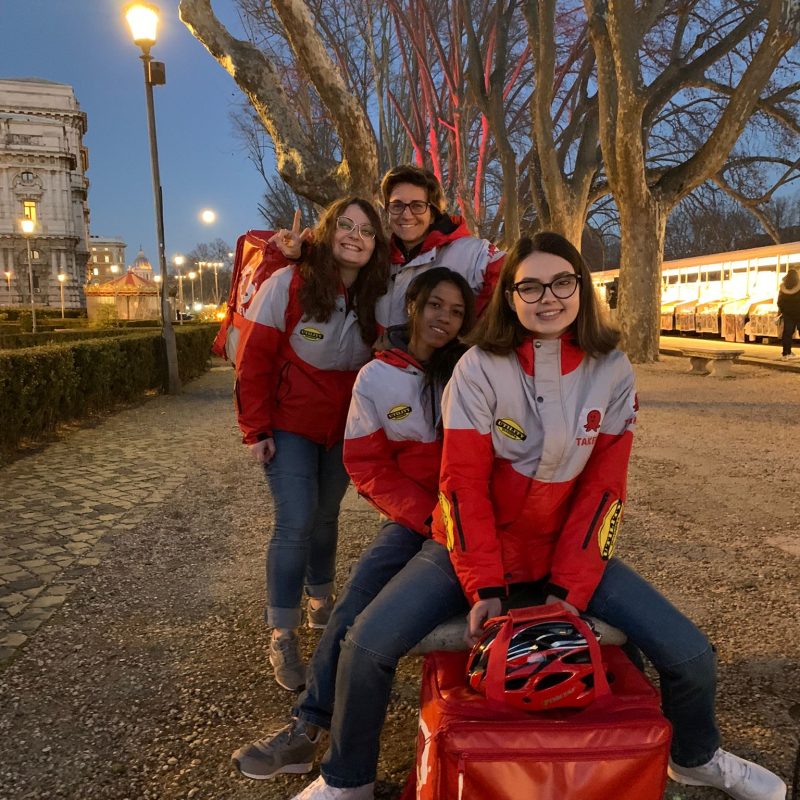 6. Takeve Hub, starting point, refreshment and company reference
!!!!!!!!!!! INNOVAZIONE E FORMAZIONE! !!!!!!!!!!!!!
 Are you a rider? And do you want to perfect your skills and look for new job opportunities through our network of Partners? Enter to the Game Learning based training program and certify your skills!
Discover our Video Game training program for all Riders in Italy
with Takeve Academy and Plase – Platform for sustainability and equality
"TAKE THE RIDE" – THE FIRST TRAINING VIDEOGAME FOR RIDERS
TAKEVE produces and implements with Plase, a training program through gaming, which aims to allow riders to correctly assimilate the rules of delivery and road safety regulations, acquiring behavioral awareness.
After having studied the market in depth, having carried out tests in Rome and Milan and interviewed a significant number of riders, the benefit company decided to act concretely, thinking and designing a training model, to safeguard the safety of each rider and encourage their social and cultural inclusion in the territory.
Using gaming as a language and the smartphone as a tool, the lowest common denominator in personal and professional life, the rider can train, acquiring useful information by overcoming the limitations of linguistic knowledge.
The choice of gaming that integrates multiple expressive languages is easy to understand, quickly usable, and develops the training narrative in the context of the game, with a mechanism of scores and obstacles, is familiar to riders because it is the basis of the evaluations of their performance.
"The rider is a profession with quick access to the job market, with a role in which "autonomy" has become synonymous with training in the field and abandonment to oneself, in which bicycle and cell phone are the only elements to count on," says Evelyn Pereira, Founder of Takeve.
Many riders, mostly immigrants with very little knowledge of the Italian language, of signs, and of the highway code, move around the city without being aware of some basic rules and this is due to the way in which the current compulsory training, foreseen from the new "autonomous contract" agreement signed a few years ago." argue Evelyn Pereira and Francesca Zanotto, Takeve partners.
TAKEVE through its Academy, in collaboration with the Plase Association, tested training in educational logic initially in presence, and verified the impact of the game on learning, which, allowing repetition at will, until the rules did not become familiar, it made the assimilation of notions simple, thus entering real everyday life at work.
"Towards an imposed system of survival, of "more deliveries and more earnings", in which the rider is a number, without identity, who faces the risks of the road, often without awareness of his own professionalism, without supervision in transport , food safety, conservation and hygiene, TAKEVE has chosen to act concretely.
Game-based learning is currently already used around the world as a therapy tool, in the medical field, and as recruiting or training usually for its employees.
"Take a ride", promoted by Takeve and Plase, will be offered and will be available to the entire community of riders, it is our intention to make our innovative training initiative available to other riders in Italy and Europe.
Takeve Academy, together with the technical comparison with Plase – Platform for sustainability and equality, we have established a complete training model, which covers customer service, road regulations, development of professional mindset and communication skills, in addition to the legal aspects relating to food conservation and to risk prevention.
This is to make our riders become trained and aware professionals in the field.
And by working directly on the legislation we have extended our training and certification programs to those who want to carry out the profession of Rider, courier or cycle driver correctly. A certification from a prestigious university will accredit the learning of the program, guaranteeing companies a professional quality service.
Why did we create Takeve Academy?
Why ? Because it is our response to a need for greater awareness of the risks in the sector aimed at reducing the number of road accidents involving delivery operators.
Not only. We are working to give those who want to find employment in the world of delivery, regardless of their position, a certification of their work experience as recognition of true professionalism.
The participant will be accredited as a qualified and competent professional in the logistical and legal processes of food delivery and last mile delivery, with knowledge of road and personal safety regulations, risk prevention, product conservation and hygiene. Technical topics that will be integrated, if necessary, with notions of the Italian language.
The program carries out the following training:
Job opportunities will open up to qualified, accredited, and trained riders, not only on other platforms independently, but also through our network of partners who will offer them new perspectives in line with the new skills acquired.
By giving professionalism to a category objectively abandoned to itself 65% of which are emigrants, we want to contribute to regenerating the fabric of our society, promoting inclusion, integration, and social and economic upgrades.
Train with us and be part of a pioneering team in the revolution and redevelopment of delivery